WHAT WE ARE ALL ABOUT
The Ryonet MFG team has been manufacturing for world class companies located in the Pacific Northwest since 2004. Ryonet MFG's purpose is to build opportunities that improve people's lives. If you are in need of a manufacturing partner that you can count on for meeting your goals, we'd like to connect with you.
Laser Cutting
Ryonet MFG is a leading provider of custom precision 2D laser cutting services throughout the Pacific Northwest. We have proven our expertise in flat laser cutting services, consistently manufacturing products to the high quality and precision standards required of the companies we work with. Ryonet MFG delivers enhanced value on all of our projects - with unmatched quality products, supported by superior customer service, at some of the most competitive prices available. 
TAKE A LOOK
Forming
Ryonet MFG offers custom metal forming services for laser cut parts using the Trumpf 3120 Trubend Press Brake. The Trumpf 3120 Trubend Press Brake provides precision bending results coupled with superior repetition accuracy, allowing us to provide you with the parts that meet your exact specifications quickly and cost-effectively. Utilizing the latest CAD/CAM technology, we can produce your part directly from your CAD drawings--minimizing the delays required to design and manufacture tooling.
LEARN MORE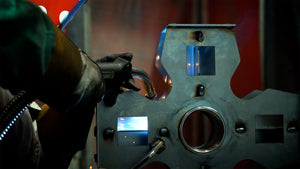 Machining
The Ryonet MFG team has a dedicated machining team with a broad range of capacity such as vertical CNC milling and CNC lathe work. Our experienced team performs close-tolerance operations in a variety of materials such as steel, stainless steel, aluminum, brass, copper, plastics, plexiglass, polycarbonate, g10, and UHMW. Customers have trusted Ryonet MFG with their machining needs for years because of our commitment to quality, dedication to value-added manufacturing, and mainstreaming the supply chain by machining their high-tolerance components as part of larger assemblies, all in-house.
FIND OUT MORE